You're almost there, future homeowner! You've made a successful offer and sorted out your financing. Your future home appraised well, and it cleared a title search. Now, it's time for your final walkthrough: one last look around before you officially close this deal.
The point of a final walkthrough is to check that the home you're purchasing is in the condition you expect it to be. You want to avoid any unpleasant surprises after the home is yours and the previous owner is no longer in the picture. This is your last chance to make sure that any agreed-upon repairs have been completed. It's also your chance to make sure that fixtures, appliances, and other extras you expect to come with your home purchase are, in fact, still in the home. For final walkthroughs, it pays to pay attention to details. We've got some tips.
Come Prepared
Bringing a few key items will make conducting your final walk through a lot easier.
Your contract – This one's probably the most important item on the list. Have a copy of your contract on hand so you can refer to it as you go through the property. Surprised by a kitchen missing appliances? Check right then and there to confirm that the contract lists the appliances as part of the sale.
A flashlight – Even if you're conducting your final walkthrough on a bright sunny day, be sure to bring a flashlight. You'll want to be able to see clearly under sinks and in other less-well-lit areas. The flashlight function on your smartphone could work if you forget. But a real-deal flashlight is worth it, if you can swing it.
An outlet checker – Outlet checkers are devices that you can plug into an outlet to confirm that the outlet works and that it's wired properly. Outlet checkers are inexpensive. You should be able to find one at your local hardware store or online without too much trouble. (In a pinch, you could bring your cell phone charger.)
Something to take notes – Pen and paper, if you're old-school. The note-taking app on your smartphone will probably work, too.
Something to leave notes – Sellers aren't always present at final walk-throughs. In that case, a pack of sticky notes or some blue painters tape could come in handy for marking as-yet-to-be-completed repairs, broken outlets, or other areas of concern.
Something to take pictures – The camera on your phone is probably more than sufficient. But you could bring a camera, too, if that's your thing.
Check that Repairs Have Been Completed
Did your home inspection turn up condition issues that your seller agreed to address? Check to make sure the repairs have been completed. Sellers usually provide receipts and documentation for work done to satisfy the conditions of sale, especially work that required contractors or other home professionals.
You'll be able to confirm some repairs with a simple visual inspection. But when in doubt, you can definitely arrange to bring a contractor or home inspector along with you. (A professional inspector along for a final walkthrough might be overkill for a studio-sized condo unit. But don't be afraid to bring an extra set of trained eyes along for large properties or to verify serious repair work.)
Verify That Items You Purchased With the House Are Still There
Here's where having a specific and thorough offer and contract pays off. You might assume that the charming light fixtures or snazzy appliances you loved when you toured the home are included with the house. But if it's not part of the contract, those items may not still be in the home.
Does your contract stipulates that certain items are included with the sale of the home? Check to make sure that those items are in place. Appliances are a common issue. Make sure that the same appliances you believed you'd be getting are actually there. Some sneaky sellers have been known to replace high-end appliances with lower-quality models on move-out day, hoping buyers won't notice. Look for lighting fixtures, window coverings, or any other agreed-upon extras. Don't forget to account for remote controls. The garage door opener might not be top of your mind today. But you'll definitely miss it if you don't know where it is once you move in.
If the appliances are included in the sale, make sure that they work. Turn on the dishwasher. And the washing machine. Open the refrigerator and the freezer. Turn the oven on, and check the stovetop burners. Don't forget to ask about the owner's manuals. You can often find the documents online these days, but having them in hand will probably be helpful later.
…And Verify That Things You Don't Want Have Been Removed
You've got enough to worry about getting your own belongings to your new home. The last thing you want to deal with is removing the previous homeowner's junk. Check that the garage, attic, and basement are all clear of the homeowner's stuff.
And if the homeowners' have been out of the home for a bit, be on the lookout for pests that may have taken up residence in your future home. A colony of bats in your attic or mice in your kitchen can put a real damper on your first few months as a homeowner.
Look Up, Look Down, Look All Around
In each room, check the ceilings, walls, and floors for serious damage. Removing artwork and wall-mounted televisions from walls can damage drywall. Furniture in place the last time you saw the home could have been concealing stained carpet or water-damaged floors.
You'll want to carefully check the condition of all of your windows and doors, as well. Can you open and close the windows easily? Do you see any gaps or feel any drafts? Do the latches work? Are the screens in place and in good shape?
As you go from room to room, check all the light switches and outlets. Be on the lookout for damaged plate covers. Don't forget to test out intercoms, doorbells, or any alarm systems.
Check on the Plumbing and Water Fixtures
Water is important, and plumbing can be expensive to fix if repairs are needed. Make sure you test out all the faucets, shower heads, and toilets in your home. Is the water pressure adequate? Does the hot water get hot? Do all of the tubs and sinks seem to be draining properly?
Be on the lookout for signs of standing water or mold. Double check for leaks under sinks and around plumbing fixtures, too. And if you've got an irrigation system or a pool, check to make sure those are in good working order as well.
Test Out the HVAC Systems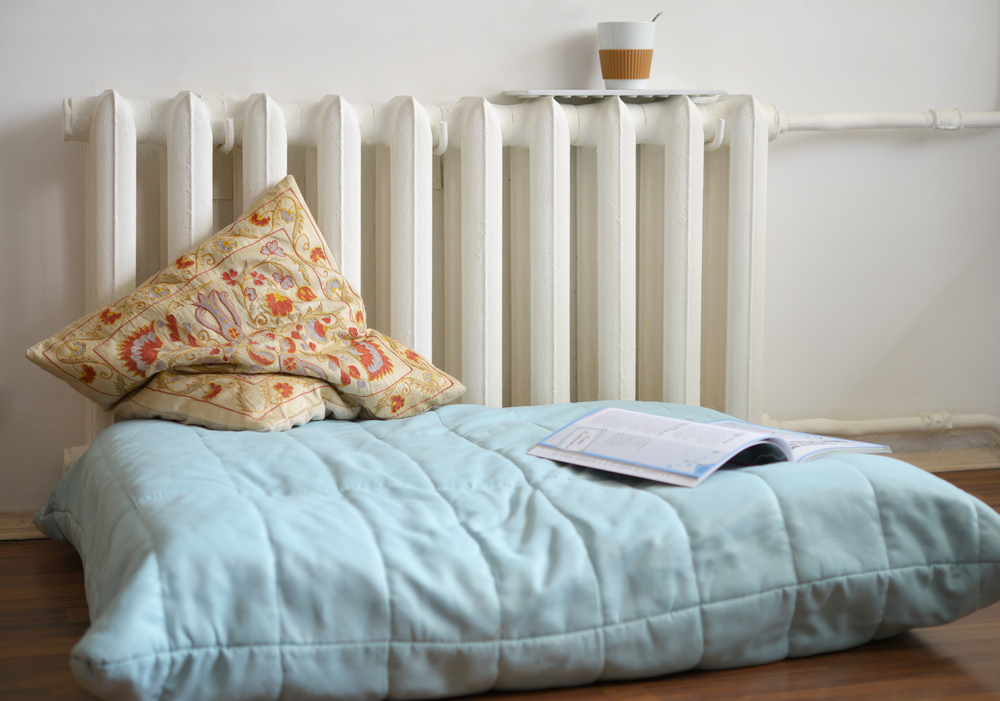 Go ahead and test the heating and cooling systems. Yes, it feels silly to turn on the air conditioner in the middle of winter or test out the furnace on a hot summer day. But to do a good and thorough walkthrough, you'll want to do it anyway. But you'll feel a lot sillier if you discover that your AC or heating systems don't work when it's time to use them.
Take a good look at your furnace, hot water heater, AC compressor, or any other major components of your heating and cooling system. Ask about how to do basic maintenance, like changing your furnace filter.
If Something Isn't Right
If you do a thorough job with your final walkthrough, chances are good that you'll find at least one or two things that you're not thrilled about. A less-than-perfect home irritates even the most patient homebuyers. But now, it's decision-time. Are the remaining issues serious enough to warrant stalling or derailing your home purchase?
Maybe you've got a light switch that doesn't work. Perhaps a few circuit breaker switches need replacing, or you find a busted outlet in one of the bedrooms. Maybe the toilet runs in the guest bathroom. Remember, part of the point of a final walkthrough is merely to avoid surprises. Taking care of maintenance and repairs is a big part of being a homeowner. You can add the less-serious findings from your final walkthrough to your first homeowner to-do list.
What If There's a Serious Issue?
That said, some issues are worth kicking up a fuss. Does the issue render the home uninhabitable? Will the trouble require an expensive or complex repair job? Did the current homeowners fail to address a matter that's clearly included as a contingency of the sale in your contract?
If you do find a serious issue, don't panic. Yes, you may be down to the wire at this point. But if something is seriously wrong, you'd rather know now. A final walkthrough gives you one last chance to put the brakes on the deal.
Talk to your real estate agent about your concern. (A less-than-stellar walkthrough is one of those moments it really helps to have a buyer's agent.) Your agent can get in touch with the seller's agent, relay your concerns.
You've got a few options with how to proceed, depending on the severity of the issue and the type of problem. You can ask the seller to cover the cost of still-needed repairs, and put the funds in escrow.
If the seller took appliances or fixtures that were part of your contract, you could ask that the items be returned to the home. Or, you could as the seller to cover the cost of replacing them. You can postpone closing until the situation is remedied to your satisfaction. In a worst-case scenario, you absolutely can still walk away—though you may lose your earnest money, depending on your state's laws and your exact situation.
The good news is that most final walkthroughs go pretty well. And even deals that need to be postponed often go through eventually. Come prepared and take your time on your final walkthrough, and you'll be one step closer to homeownership.