We wanted to thank our friends over at Lemonade—a licensed insurance carrier that offers homeowners and renters insurance powered by AI—for their help in writing this article!
The process of searching for and getting a Mortgage might seem confusing and overwhelming. But when you break it down bit-by-bit, it becomes a whole lot easier to understand.
We'll review the key steps for getting a mortgage—from getting pre-approved to closing the loan—so you can shop with confidence. Let's start by reviewing how you can find one that fits within your budget:
1. Determine what you can afford
A mortgage is a great way to get a home you can't afford in one cash payment. But just because you're getting a loan doesn't mean you should plan to buy a mansion. That loan will be repaid in monthly payments, so be realistic about how much you can afford. Don't forget that on top of mortgage payments, you will be responsible for other costs of being a homeowner, like homeowners insurance, property tax, and utilities.
If you're not sure what you can afford, go for the trusted debt-to-income (DTI) ratio. This is a snapshot of your monthly debt payments divided by your gross monthly income. Lenders use this ratio to figure out whether you'll be able to make the monthly payments needed to repay the money you plan to borrow.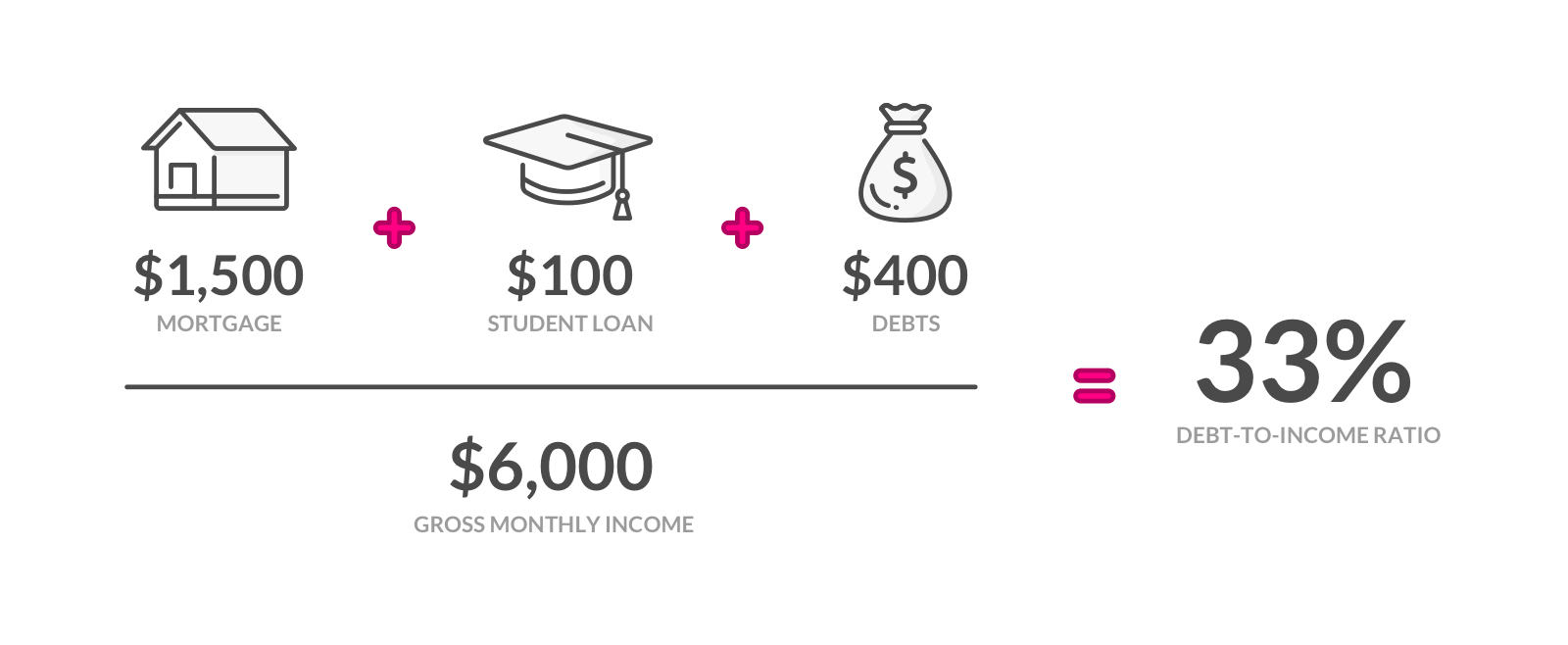 So if you pay $1,500 a month for your mortgage, another $100 a month against your student loans, and $400 a month for the rest of your debts, your monthly debt payments equal $2,000. If your gross monthly income is $6,000 then your DTI ratio is 33 percent.
A debt-to-income ratio of 43 percent is typically the highest mortgage lenders will accept for a mortgage. Each lender will set its own debt-to-income ratio requirement; a 20 percent ratio is considered low, whereas the Federal Reserve considers anything above 40 percent a sign of financial stress. If math wasn't your favorite subject in school, this DTI calculator will help you work out your own ratio.
Another way to figure out what your future monthly payments will look like is to use a mortgage calculator. It will also help you figure out how much you can afford for your down payment. Don't feel under pressure if you can't make a 20 percent down payment. While some lenders require 20 percent on your mortgage, many loans (FHA loans, for example) only require 3.5 percent. This is reflected in the fact that the average down payment for first-time homeowners is just 7%.
You might also like: 7 ways to save for your down payment
2. Get pre-approved so you can bid with confidence
Not to be confused with getting pre-qualified, a pre-approval is a formal offer from a lender that tells you how much they can loan you. The offer usually expires after 90 days. Getting pre-qualified, on the other hand, is a more informal process and a good alternative if you're not ready to go through the pre-approval process.

In both cases, you approach a lender and give them documentation about your credit, debt, income, and assets. The lender then decides whether or not you qualify for a loan. If you qualify, they'll provide you with an estimate of what they think you can afford for a mortgage. With a pre-approval, the lender will have officially verified all your documentation, so it's more valuable than a pre-qualification.
3. Shop around to find the best rate
Just because you got pre-approved from one lender doesn't mean you have to stick with them. In fact, our product is built to provide you with quotes from multiple lenders. You should compare several of the offers to confirm that you're making the best choice.
Get pre-approved with us in just minutes and you'll receive several personalized loan options! Get started
As you review your options, you'll also want to know the types of mortgages you're looking at, the terms they come in, and whether they makes sense for your situation. Here's an infographic that can help: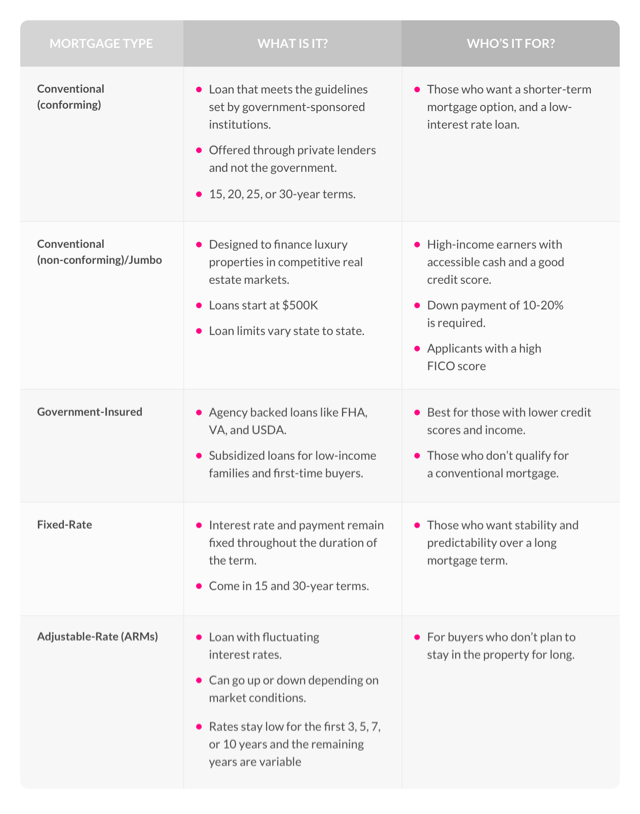 Once you decide how to structure your mortgage and give your lender the green light, they'll start a process called underwriting. They'll gather all of your relevant financial info, send an appraiser to your home, and make sure the down payment has been deposited in an escrow account.
4. Apply for a mortgage
Once you've picked a mortgage, you're ready to apply for it. Follow these steps to keep organized:
Seek out at least three alternative quotes for a mortgage. Doing so can provide you with savings through lower interest rates and lower bank fees, which differ from lender to lender.
Applications will ask about your assets, employment, finances, and debt – expect it to be easier than your college applications.

FYI –there's no impact on your credit score if you're submitting more than one application, as long as you complete them all within a 45-day window.
Once you've submitted your application and your potential lender or mortgage broker gets access to your credit score, you'll be presented with a loan estimate. This may take them a few days to process.
The loan estimate will break down your costs, including what needs to be paid to third parties, the down payment, taxes, insurance, and lender fees, and lumps them into one figure called "cash-to-close."

If you're not sure what to compare to figure out which loan estimate is best, check out page three of your estimate where you'll find the 'APR' (annual percentage rate) and loan costs.
Step 1: Begin filling out a mortgage app form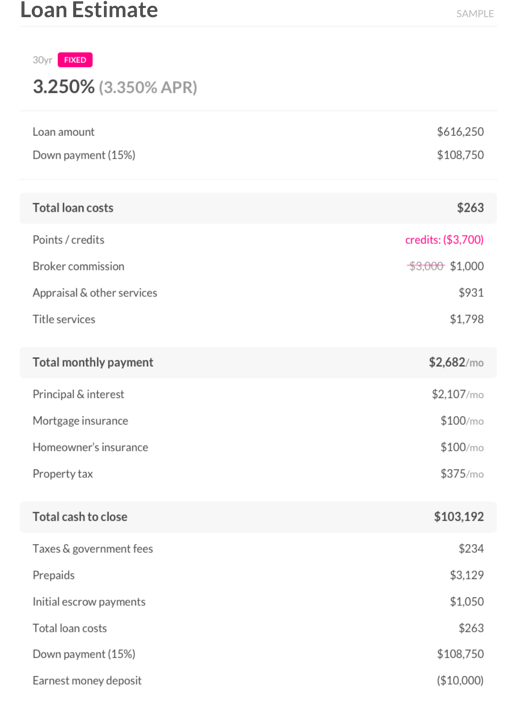 Step 2: Work with your lender or broker
After you've compared each loan estimate, select a lender you trust. If you're seeking more direction, check out the National Mortgage Licensing System (NMLS), a database with all licensed and registered mortgage lenders. You can also check their company website for a Better Business Bureau accreditation, or look for ratings on Zillow.
Your lender will ask for a credit report, which usually costs you about $12, and an appraisal generally costs $400-$500. The bank will coordinate these for you, but you'll be responsible for the payments.
You might also like: A look at how your credit score gets calculated
It will take two to three weeks for your mortgage application to process, and you might be asked to provide some extra documents. Any questions you answer will be double-checked against tax records and pay stubs. Your lender will then start the underwriting process. The underwriter assesses the risk of lending you money for your property. They want to make sure you'll make the monthly mortgage payments on time, and that your credit score checks out.
Step 3: Close your loan
Clear to close are the magic words you'll want to hear from your lender. It means everything checked out and your mortgage has been officially granted. Congrats! Here's a list of the final steps you'll should take before you close your loan.
Three days before your closing date, expect to receive the closing disclosure, which will show your closing costs (some additional costs beyond those listed in your loan estimate). Once you've decided to go ahead and sign the contract, it's time to start the closing process. This involves a bunch of paperwork so have a checklist handy so you don't forget anything. The list below can get you started.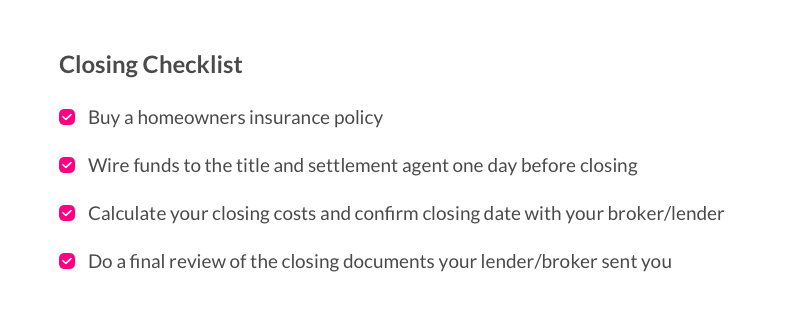 You might also like: How closing costs are calculated
The whole mortgage process can be lengthy and full of bureaucracy, but you got this! Comparing different mortgages and a number of quotes from lenders can make all the difference in how much you pay long-term.
If you're at the end of the mortgage process, you deserve a well-earned break. Buying a home is one of the biggest investments you'll ever make, but ensuring your mortgage fits your lifestyle and budget will pay-off long term.
Now all that's left is figuring out which DIY hacks you want to use to maximize your space.